Whether you have an established equestrian facility or are planning a new outdoor horse arena, Radco Electric can give you a hand.  We have experience with installation and design with all types of outdoor lighting facilities, from simple parking lots to custom rodeo arena lighting.
Outdoor lighting for horse arenas and equestrian facilities are a significant addition and are becoming more sophisticated every day.  In the old days, horse arenas and outdoor rodeo arenas were lighted with outdoor flood lights, halogen lights or simply mercury vapor barn lights.  These forms of outdoor arena lighting did not have the lumen output or performance to properly illuminate arenas, holding pens, stables or horse training areas.  In fact, all of these light sources are outdated, ineffective and inefficient.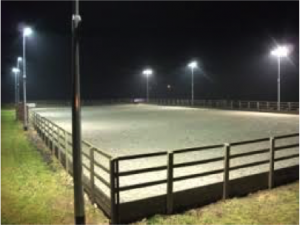 Most equestrian facilities have large creosote light poles that can be easily retrofitted with modern arena lighting metal halide fixtures.  Sometimes these lights have brackets designed to mount on walls or buildings.  Metal halide is a type of light source that is energy efficient and produces a very bright light with good color rendering. Halides are fast becoming the new standard in outdoor arena lighting.  By using metal pole adapters and metal halide box floods, existing outdoor horse arenas can be updated and well-lit.  This can often be accomplished without modifications to the existing electrical wiring.  Of course, if wooden poles are not what you had in mind for your equestrian facility, commercial lighting poles and fixtures can be used for a more architecturally refined look. Radco Electric would be happy to discuss any modifications or new installations for your arena.